We'll gather in Anderson Hall at 10:00 am for an informal worship service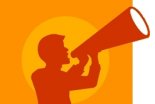 followed by the Annual Congregational Meeting. It's a day to remember the highlights of the past year and plan for the year ahead, including adoption of an operating budget and election of new committee/board members. We will also discuss and hopefully adopt new bylaws.
All church members are needed and urged to attend!
We'll have a short break between worship and the business meeting, so please bring some finger food to share.