Y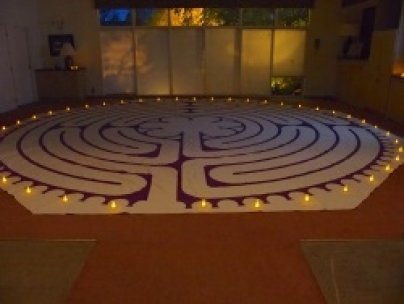 es, this year it is also known as Valentine's Day. So we promise you chocolates along with the ashes — unless you've decided to give up chocolate for Lent, in which case far be it from us to lead you into temptation on day one! But seriously, we have a simple but lovely open-house kind of day planned for Ash Wednesday.

From 8:00 am to 8:00 pm our beautiful canvas labyrinth will be laid out in the back of the sanctuary all day for those who want to walk it, with gentle music in the background. If you've never walked a labyrinth before, fear not. Printed material will be available, and it's pretty intuitive. It's not a maze, with dead ends, but a clearly marked circular path in toward the center and back out again.

You might begin your walk with a simple prayer such as, "God, help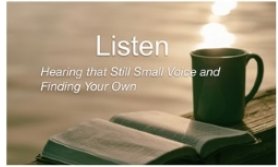 me to hear your still, small voice in my life" or "God, lead me in the paths of love."

At 12:00 Noon & 7:00 pm Pastor Diane will be in the sanctuary to lead you — whether it's only you or many — in a very brief service of silent prayer, scripture reading, reflection and imposition of ashes. Feel free to come early or stay late to walk the labyrinth before or after.

It's a quiet launch of our Lenten Series, "Listen: Hearing that Still Small Voice and Finding Your Own." .