Date:
Nov 18, 2017
Time:
From 7:30 pm until 9:00 pm
Location:
The Sanctuary at Alki UCC
6115 SW Hinds
Seattle, WA 98116
Saxophonist Steve Griggs leads a compelling program of stories and music
honoring the native carver and exploring the abuse of force
by the Seattle Police Department.
with
Jay Thomas
trumpet/saxophone/flute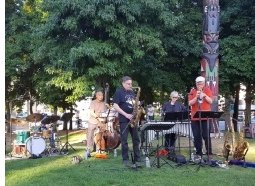 Phil Sparks
bass
Susan Pascal
vibes
and
Milo Petersen
percussion
Net proceeds benefit the West Seattle Helpline, a beloved nonprofit social service agency offering emergency assistance for West Seattle residents.
A free will offering of $20 is suggested.
Refreshments & treats served at intermission.
For more information contact:
Return