It's a CELEBRATION!
Eight (count 'em- 8!!) Tiny Houses have been completed at Camp Second Chance from the donations raised at our Mardi Gras Dinner in 2017.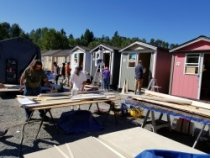 Come join the choir in blessing these wonderful houses, and their new residents.
We will assemble at noon for a tour of the camp.
You'll be a witness to the amazing tiny houses that ALKI UCC (and friends) BUILT, enjoy food compliments of Peasant Food Manifesto, then hear the choir sing and take part in the blessing.
Camp Second Chance
9701 Myers Way, Seattle, 98108