Alki UCC & Friends Build Tiny Houses at Camp Second Chance ... a Look Back
Author: Kathy Herigstad
It started with good intentions and virtually no planning. At our February 2017 Mardi Gras Gala, Alki UCC raised $21,000 to build Tiny Houses with absolutely no idea how or where we were going to make that happen. It turned out to be quite a journey, as rewarding to us as to the people whose homes we built. And it was fun.
During the first year, we undertook extensive research and preparation. As naïve newbies, we expected to hand the money over to LIHI (Low Income Housing Institute) in Seattle, and maybe get some volunteers together to help with the actual construction. Instead, for various reasons, we discovered it was all going to be up to us.
As project coordinator, I spent hours on the phone and in meetings. LIHI explained that donor organizations normally build the units, which LIHI then picks up to transport to sanctioned encampments when and where they're needed. I gave up that plan when I couldn't find a rent-free place to build that offered space, electricity, secure storage for equipment/materials and proximity to our West Seattle volunteer base. To make it even more complicated, the Tiny Houses would have to be stored at that location until LIHI had time, means and location to move them.
Time for a new approach!
Cinda Stenger was key to a planning breakthrough. Through her board position at Camp Second Chance (CSC), Cinda learned that the camp needed houses and was ready to have them built. She helped me connect with Eric, a resident and the camp coordinator. We were good to go — except that we had no construction foreman. I reached out to Walt Puckett at University Congregational UCC for help. He had given me advice a year earlier, when volunteers from his church built a Tiny House for LIHI. I asked him to be our foreman, and he agreed.

We recruited a core group of volunteers and ordered materials based on the design created by LIHI and modified by Walt. With Walt as foreman, we began our first build on March 16, 2018. Some of our volunteers had excellent skills; some had none at all, but wanted to help and were ready to learn. We completed that first house in three days. On March 18, Chris Kinser moved into his new home. One done, seven to go — it was so exciting!
I realized we needed to be more efficient in our building process, especially our use of volunteer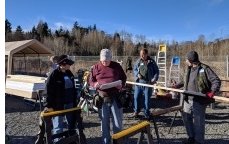 time. Cinda Stenger, Mark Worden and I met in late March to plan the next phase, fine-tuning the steps. We added some design elements as well, including improved insulation, to make the tiny houses more like real homes.
Our next round of construction was done in stages, working on seven houses at once in a modified assembly-line approach: level the ground and place pier blocks; build the platforms, walls, and roof rafters; add siding, roofs, doors and windows; and all the additional building details to complete each Tiny Home.
We began our second round on April 7. It was raining, and only five of us showed up. Nancy Hallberg, Peter Junkerman, Mark Worden and I worked with resident Jim Culpepper to level the ground and place pier blocks for seven homes. We were on our way!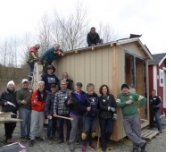 For the next five months, with Mark Worden as our lead construction coordinator, we had teams working at Camp Second Chance every Saturday (Every ... Single ... Saturday). We had a dedicated group of volunteers, including our core team from Alki UCC, community friends and CSC residents. I am so grateful to every one of them.
Construction stand-outs included Nancy Hallberg and Peter Junkerman; Rod and Julia Peeler; Doug Gunwaldsen; Steve Fisher; Barb Oliver; Tomasz Biernacki; Beatrice van Tulder; Jeff Hallstrom; and many camp residents. Other volunteers from Alki UCC and the community joined in when they were available, and there was always plenty of work for them to do. Gina Erickson, Gretchen Hawley, Cindy Ogasawara, Cinda Stenger and Linda Anderson brought meals. Camp residents often fed us as well, sharing donated food at community barbecues.
We finished our eighth house on August 25. What joy as the residents received the keys to their new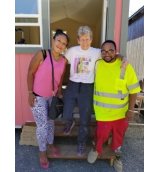 homes! For five months, we helped build a community of physical homes and spiritual connections. We shared work, meals and laughter with our neighbors at Camp Second Chance. We learned to be efficient in time and costs, and we created a process that other donors and volunteers can follow.
The work continues through Sound Foundations, a new group being formed and led by Cinda Stenger, Mark Worden, and Jasmine and Tomasz Biernacki. They are moving forward on fundraising and will soon begin construction of five more homes at Camp Second Chance. Volunteers will be welcomed with open arms! Tomasz will be coordinating volunteers; watch for further information from him.

Thank you for your deep commitment to building safe, secure homes for our neighbors at Camp Second Chance. You're a phenomenal group of people, and I am grateful to have worked in partnership with you.
Blessings and much love,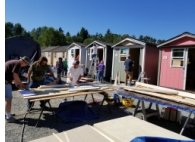 Kathy
9/21/2018
Return