Alki UCC Team Builds "Tiny House" at Camp Second Chance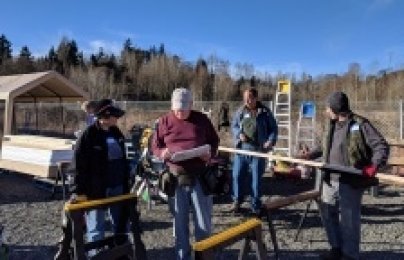 It was amazing! Great weather and incredible people came together two weeks ago to build a tiny house at Camp Second Chance. It took a year of planning — with a lot of frustrating logistics — to get there, but oh, what a day it was. Wondrous love in abundance!
We experienced the camaraderie that comes from a common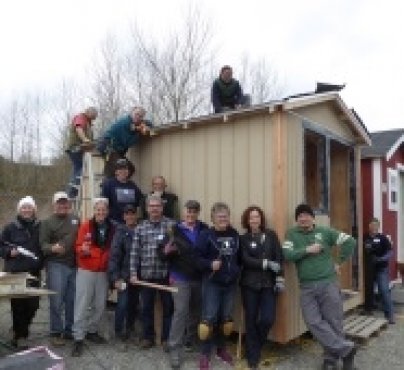 purpose. For a few days our Alki UCC community blended with the camp community, and a true feeling of kinship grew out of our work.
Chris Kinser, the bookkeeper at Camp Second Change (CSC), felt the communal love in a very personal way. As the first resident of our tiny house, Chris moved from a tent to a home with a door, a window, and a lock. So simple, but such a big difference: safety, comfort, and privacy are the basics everyone needs for a life with dignity. And for Chris, the very best part was the new bed and flannel sheets we gave him. At 60-something, he was SO excited to get up off the ground to sleep!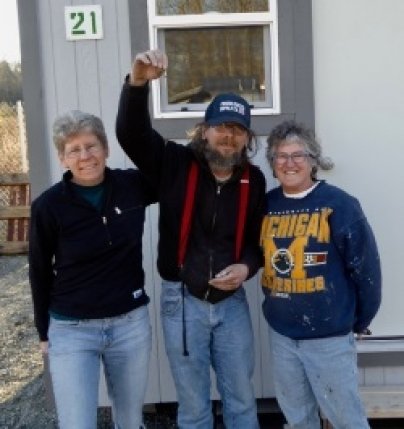 Other CSC residents were excited, too, asking when we'd be back to build more tiny houses. They offered to help with the construction, and we know that some of them have real skills.
Spring and summer are the seasons to build, and our core team is working on plans for more houses. We have the funds, we have the location, so all we need are committed volunteers to make this happen.
Very soon, we'll be calling for amazing people who want to make a real difference on a personal and community level once again. Please consider answering that call and feeling a bit of wondrous love for yourself!

— Kathy Herigstad, March 30, 2018
Return