Our government refuses to protect our basic rights to life. If

those we have put in power aren't protecting our necessities, what purpose are they serving?"
I had something else in mind for the first Sunday of Lent, but then along came the Holy Spirit, and our guest speaker on Sunday will be Kiran Oommen. Kiran, age 21, is one of a group of twenty-one children and teens who are suing the federal government for their right to a healthy and stable climate. The suit, filed two years ago, alleges that the federal government has known for decades that carbon pollution destabilizes the climate in a way that puts future generations in significant danger, but has taken no action to curb it.
The 21 plaintiffs (pictured below) argue that this failure to act has endangered their rights to life, liberty, property, and vital public trust resources. "We are calling for the United States to prepare a comprehensive national plan that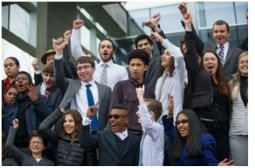 will reduce our emissions based on what scientists say is necessary to protect the climate system and protect our oceans," says Julia Olson, lead counsel for the plaintiffs and executive director of Our Children's Trust, the nonprofit that helped bring the lawsuit. The case, Juliana v. United States, was supposed to go to trial on February 5, but has been delayed. You can learn more about the lawsuit and the plaintiffs at Our Children's Trust.
The "Holy Spirit" part is that I spoke about the lawsuit in my sermon just three weeks ago and mentioned that I'd first heard about it because one of the plaintiffs, Kiran, is the son of my friend and former pastoral intern, the Rev. Melanie Oommen. On Monday Melanie texted me to say that the family will be in Seattle this weekend, plan to worship with us at Alki UCC, and that Kiran would be happy to talk about the case after worship with anyone who is interested. I told her we already had a class on Climate Change after worship this Sunday…but this is too good an opportunity to pass up…and Kiran said he was working on an article for a UCC journal that he could adapt for a message this Sunday…..so we're on. There will be a short time after worship, before Joe's class begins, to engage with Kiran if you like.
Given the latest school shooting this week, and the cries from students there for us adults to "Do something!" I feel blessed to have this 21-year-old in the pulpit this week.
Grace and peace,
Pastor Diane