Hello Alki UCC,
Some of you may remember me from back in 2014 when I interned at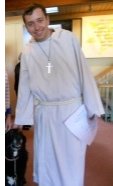 Alki UCC on my path towards ordination, others of you I am very excited to get to know you in the future.
I wanted to incorporate a little bit about myself so that you would get to know who will be the "visiting pastor" this summer as the church works towards finding an interim pastor. First, I am a native of Louisiana (Not New Orleans), but have lived in the Pacific northwest for eight years now and call it home. I currently serve at St. Joseph's Medical Center in Tacoma as a staff chaplain and have been doing that for almost four years now.
I love the art of pastoral care as well as learning more about the helping professions. The love of the helping professions made me want to go back to school and study how to do Mental Health Counseling. When these things get to be mundane, I like to spend my time tasting wine, fishing, or going on an adventure. I am looking forward to my time at Alki (again) and will be happy to be your pastor for the summer!
— The Rev. Bruce Wilson Jr. BS, MDiv, BCC